Rickshaw Pimping!
Yo. The word from the Pimp Masters in Chennai is official. The rickshaws are ready for your pimpin' pleasure. Every one's seen pictures of fabulous rickshaws from past challenges, and if you're the kind of competitor that requires a certain level of Bling to make it back to the driver's seat each morning, consider breakfast served. Action and quick reflexes will be useful on the route, but they're critical now: the Deadline for submitting all pimpin' requests is 30 days before the start of your Rickshaw Adventure.
Get the low down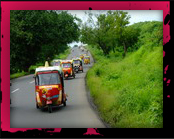 With an excel spreadsheet packed with itemized upgrades it can be tough for a upwardly mobile team, like the dear reader, to know where to start and spin on two wheels. That's where we come in. With in our in the trenches experience of rickshaw racing, modification, monsoons and decadent 3-wheeledbling… you're in good hands. If you're into performance we can suggest the following popular mods:
New Tires & Horn, suitable for waking the dead.
Ultra-light, ultra-stylish Bamboo seats.
Back Spoiler comes with driver's Hand Grip Set.
If you're more into the finer things in life and on the long road ahead, might we suggest:
Custom paint in any design, any range of colors      -including metallics.
Custom upholstery. You dream it. We install it.
DVD/MP3 full entertainment suite for the weary      passenger.
Over 4 flavors of sound system, booty bass included.
Sponsor stickers are added to all participating rickshaws. You can peep the visual.
Getting hot? Scroll up to check the price list, application form and all that fa-shizzle.